5 Wet Room Ideas To Inspire You
Trying to think of safe and stylish wet room ideas but need a little inspiration?
In this article, we'll share details from five of our favourite wet rooms.
Wet rooms tend to be more 'open-plan' than traditional bathrooms and this format lends itself to some very elegant styles.
Not only is there lots of potential for a sleek and modern bathing area, but wet rooms tend to be easier to navigate. Therefore, the wet room system is also a popular choice for people with mobility issues.
Here are five wet room ideas to inspire you, including some from our recent portfolio:
#1 Replacing the bath with a luxurious walk-in shower
First of all, if you're looking for small wet room ideas, take a look at this example from one of our recent projects.
That's right – there used to be a bathtub in this small wet room setting! You'd never know by looking at it now.
Part of the appeal of wet rooms is their greater accessibility and spaciousness. Our client decided they'd prefer a walk-in shower area to a bathtub, which requires more effort to get in and out of.
Don't let your bathroom's awkward shape or size put you off. We have plenty of small wet room ideas and the design can be very flexible.
That means your current layout and bathroom features needn't be barriers to your wet room ideas.
#2 No doors, no screens, no problem!
It's very common for wet rooms' shower trays to be unenclosed, or only partially contained.
This wet room is a great example of having the best of both worlds. The separate shower area doesn't have a door or screen to step through, but there's still an aesthetically-pleasing short, curved wall separating the unit from the rest of the room.
This is a very spacious room, with the toilet located in a separate space behind an additional door.
The marble walls are stylish and the whole wet room design is attractive and minimalist, with colour used sparingly.
#3 A floating sink and elegant mirror
As an alternative to marble, why not go for a chic wooden floor? It's an easy-to-clean and non-slip option for modern wet rooms.
This recent small wet room design also has a walk-in shower, plus other stylish external features.
Note how the washbasin 'floats' and the curved mirror matches the colour scheme.
There's also a handy folding shower screen. Folding shower screens provide a great hybrid option between a traditional shower and a walk-in one, to create separate wet and dry zones.
#4 Spa-esque wet room
Why go to a spa when you can replicate the experience at home?
This beautiful bathroom would look at home in a 5-star hotel. Its large, circular mirror is matched by the spherical lights on either side.
There's a great waterproof wet room floor too which would be perfect for underfloor heating.
The dual sink is a stylish touch, with hooks on hand for towels and bathing robes. The stool beneath the luxurious rainfall shower can be used for display, or greater accessibility in wet rooms.
#5 Seeing double?
Lastly, what's better than a walk-in shower? Two walk-in showers, of course!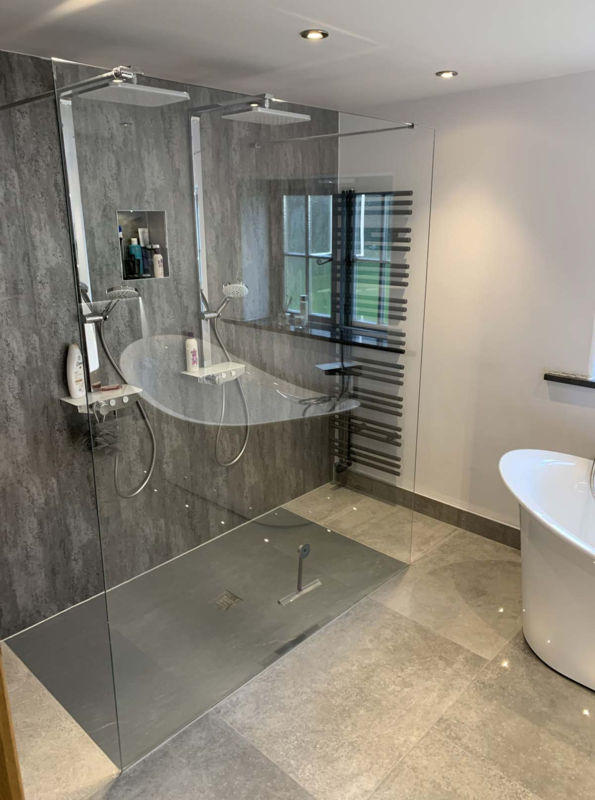 Take a look at one of our recent wet room conversions with a spacious showering area. Twice as practical; the double shower enclosure is also the focal point of this stunning bathing area.
In addition to the two wall-mounted shower heads, there are also a couple of overhead rainfall showers – perfect for a relaxing experience.
Behind the shower screens there's also a niche, or recessed shelf, providing dedicated storage room for washing products.
Other wet room ideas
Looking for something a little different? There are plenty of extraordinary wet rooms on Pinterest – just search for 'wet room ideas' or something similar.
For example, here's a collection of 400 pictures, featuring a wide range of wet rooms.
Instagram is another great source of inspiration for wet room ideas. Under #wetrooms there are thousands of posts!
You'll see a few weird and wacky wet rooms. But also plenty of very creative styles, beautifully executed, even for small wet room design ideas.
Final thoughts: Wet room ideas to inspire you
We hope the pictures and details above have given you some great wet room ideas for your home.
We've also written an article covering wet room ideas that are disability-friendly.
The key features of wet rooms for those with mobility issues include accessible basins, raised toilets and accessible baths or shower trays.
At Ability Bathe, we're wet room installation experts. We can redesign any bathroom to make it both more stylish and accessible.
We take care of the full renovation, including installing modern bathroom furniture and mobility aids if required, or even underfloor heating in wet room bathrooms.
We also offer tiling, plastering, plumbing and electrical services – everything you need for a new bathroom. Please get in touch with us for more information.