15 Stylish And Modern Bathroom Wall Ideas
Want to redecorate your bathroom, and looking for some bathroom wall ideas?
There's so much you can do with a bathroom wall to create a modern and stylish look and feel.
Whether it's a walk-in shower wall you want to refresh, or the other walls, we've seen it all in our over 35 years of experience designing and installing bathrooms.
Without further ado, here are 15 of our favourite bathroom wall ideas. We'll also take a look at bathroom wall panel design.
#1 Mirrors
Mirror mirror on the wall, who's the fairest one of all? Your bathroom will be, if you pick the right mirror!
Bathroom mirrors aren't just to help you shave, floss or brush your teeth. Coming in all shapes and sizes, mirrors can be a design feature in their own right.
Some can also double-up as a cabinet, holding your cosmetics or medicines.
And if you go for a large mirror on a feature wall, you'll find that it can make even the smallest bathroom look much bigger.
#2 Lighting
Lots of bathrooms just have one or maybe two overhead lights – but if your walls are looking a little bare, you can shake things up by adding some lighting.
What if you want mirrors and lights on your bathroom walls? Well, why not have both!
You can mix and match many of our bathroom wall ideas. You don't just have to settle on one, as you can see in the example below:
#3 Plants
Onto our next bathroom wall idea. Plants are an inexpensive and creative way to spruce up your bathroom – and if you choose the right one, there's an added bonus.
As covered in our blog on how to get rid of bathroom mould, the bathroom can be a humid place due to all the moisture produced from your bath or shower.
Some bathroom plants thrive in these conditions while helping to absorb moisture from the air, decreasing the dampness and humidity.
In turn, some plants such as English ivy can reportedly remove as much as 78% of airborne mould. Ferns and other houseplants are popular choices too.
So, look for air-purifying plants that are low-light friendly and happy in humid conditions. Then put up a shelf and put the plant there – simple!
#4 Floating shelves, basins and seats
A modern bathroom wall trend involves creating the impression of floating objects. For instance, a floating shelf with a bathroom plant on top will look very stylish.
No need to stop there though – why not have a floating basin? This is a great choice, particularly if the bathroom space is limited.
A floating basin could create room for a stool, or even some drawers. This gallery showcase example shows how we designed one in a small bathroom.
If anyone in your family needs mobility assistance in the bathroom, we've got the solution for you. Some of our mobility aids include grab rails and shower seats, plus other bathroom furniture.
For more information, take a look at our blog on disability-friendly bathrooms.
#5 Niches
Instead of floating shelves, other modern bathroom wall ideas include niches.
In another one of our gallery showcase examples, there's a handy niche in the shower wall.
Apart from looking very modern and stylish, there's a practical benefit too. It's much harder to knock something over and have it fall to the floor when the shelf goes in, not out.
#6 Colourful tiles
Sometimes all you need to stylise your bathroom wall is a bold, dynamic colour scheme. Take a look at the example below.
Not only does the colour choice stand out, the green tiles provide a great contrast with the grey tiles in the shower, shown in the mirror.
#7 Simple tones
Alternatively, if a bold colour choice doesn't fit in with your bathroom wall ideas, a more muted colour scheme can also contribute to a modern, fresh-looking design.
In the example below, the shower also has grey tiles. The bathroom walls are white, as are the drawers and sinks, creating a monochrome appearance.
Combined with the black trim around the window, this bathroom stands out with its calming use of a simple palette, by showing off different shades of white and darker colours.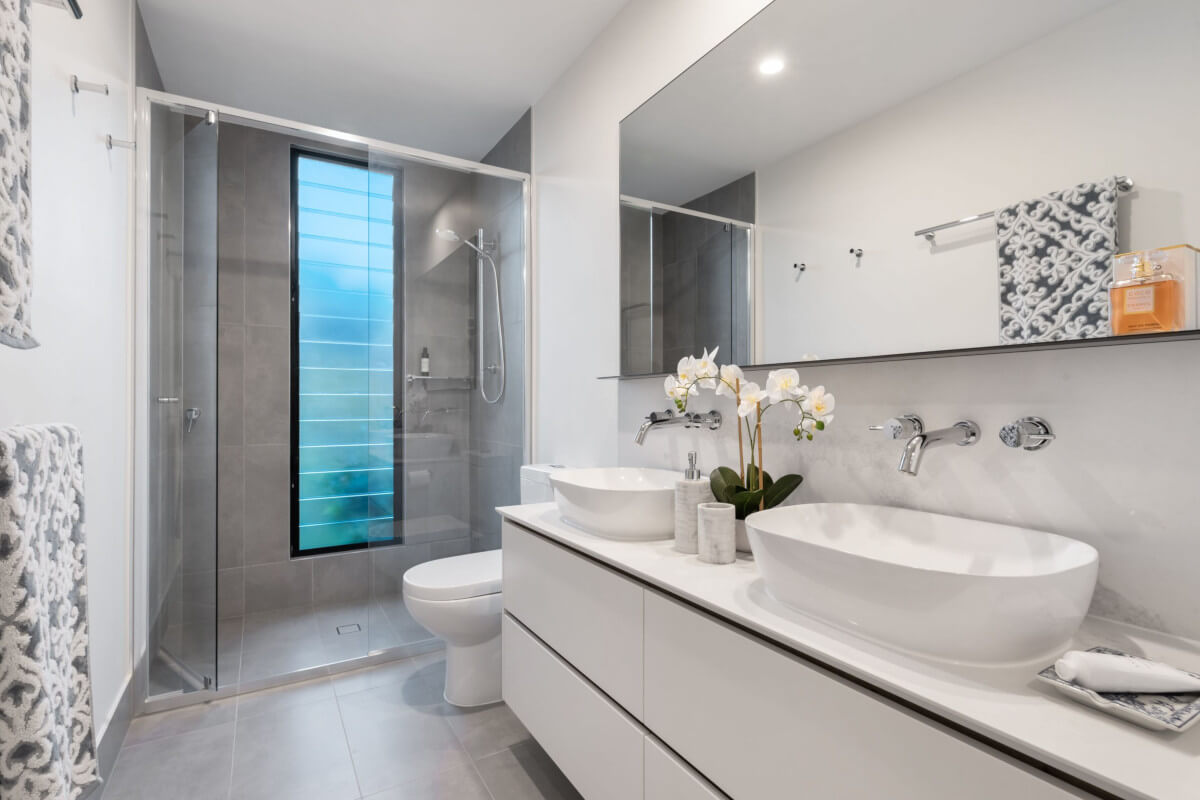 Other bathroom wall ideas: Materials
As another approach, decide on your favourite material and design your bathroom around the wall panelling. To be as practical as possible, consider a waterproof bathroom material first and foremost.
#8 Waterproof-first walls: Use materials that resist moisture – inorganic ones such as porcelain, ceramic or natural stone
#9 Marble: For a luxury bathroom, marble walls look sleek and glossy
#10 Wood: You can have wood panelling in a waterproof bathroom, but take precautions by using lacquer, varnish or other strong sealants
#11 Brick: If you can't decide on a material, you could ask a professional to chip away the current materials and have a brick wall as a talking point in your bathroom!
Don't have bricks behind your bathroom walls? You could go for tiles that look like bricks on your feature walls instead.
Other bathroom wall ideas: Decor
To keep things simple, how about redecorating your bathroom walls with wallpaper or paint?
#12 Wallpaper: Choosing to wallpaper your bathroom opens up lots of possibilities in terms of patterns and colours
#13 Paint: Specialist bathroom paint not only looks great, but some are also resistant to moisture, helping to prevent a buildup of mould
Other bathroom wall ideas: Art
Here are some final bathroom wall panel ideas – decorate them with some artwork:
#14 Pictures and paintings: Whether they're museum-worthy works of art or your children's school drawings, brighten up your bathroom walls with some imagery!
#15 Mosaics: You can also create your own bathroom wall art by making a mosaic, using carefully placed tiles of different colours
Final thoughts: Stylish and modern bathroom wall ideas
From big mirrors to simple tones, and waterproof materials to artwork, there should be something to suit all tastes in the above bathroom wall ideas.
Need more remodelled than just the walls? At Ability Bathe, we're experts in bathroom deisgn and installation – plus, each one has a 10 year guarantee.
To find out more about our friendly, family-run service please don't hesitate to contact us.