How Much Does A Walk-in Shower Cost?
If you're weighing up walk-in shower costs and benefits, let us be your guide.
Despite the wide range of conventional shower designs, many people now choose to have a walk-in shower. This is because of the various advantages of a walk-in shower compared to traditional options.
If you have been considering a walk-in shower but are still undecided, then the following benefits could help you make an informed decision.
And we'll also outline a typical price range for getting one!
Walk-in shower considerations
Shower design is something that many people consider one of the most important elements in a bathroom.
Many people have had to contend with shower baths and shower curtains. This can be problematic (and not just from a bathroom mould perspective), especially in small bathrooms or for those who have restricted mobility.
A walk-in shower offers excellent accessibility features for a bathroom. Factors affecting mobility issues can be mitigated, even in smaller bathrooms.
In addition to introducing more space into the bathroom, a walk-in shower also looks less intrusive than an old shower tray or cubicle. It can also be designed to fit in with the decor of any style of bathroom wall surrounding environment – for example, if it's a steam room shower.
Walk-in showers are available in plenty of designs
Given the minimal aesthetic of a shower, many assume that they all look alike, but this isn't the case.
Another great benefit of embracing a walk-in shower is that there are plenty of affordable designs available, regardless of your tastes in bathroom design.
A walk-in shower is often a perfect fit for the modern home due to their streamlined and minimal design. Luxury features such as glass screens, underfloor heating and electric showers are available for a modern style and can be accommodated even in a small bathroom.
However, there are also options available for those who are wanting to create a traditional or retro design that still has all the convenience of a modern bathroom.
You can choose your own shower head, panelling or even shower tray drain that suits your preferences!
Mixing colours, materials and optimising space are all customisable options for your new walk-in shower. For example, why not consider a custom tile shower cubicle with different colours.
The dated bathroom look is no more – the possibilities are truly endless when choosing your walk-in shower experience.
And there's no need to know about all the different types of shower trays or glass screens, an expert can always give some advice if you like.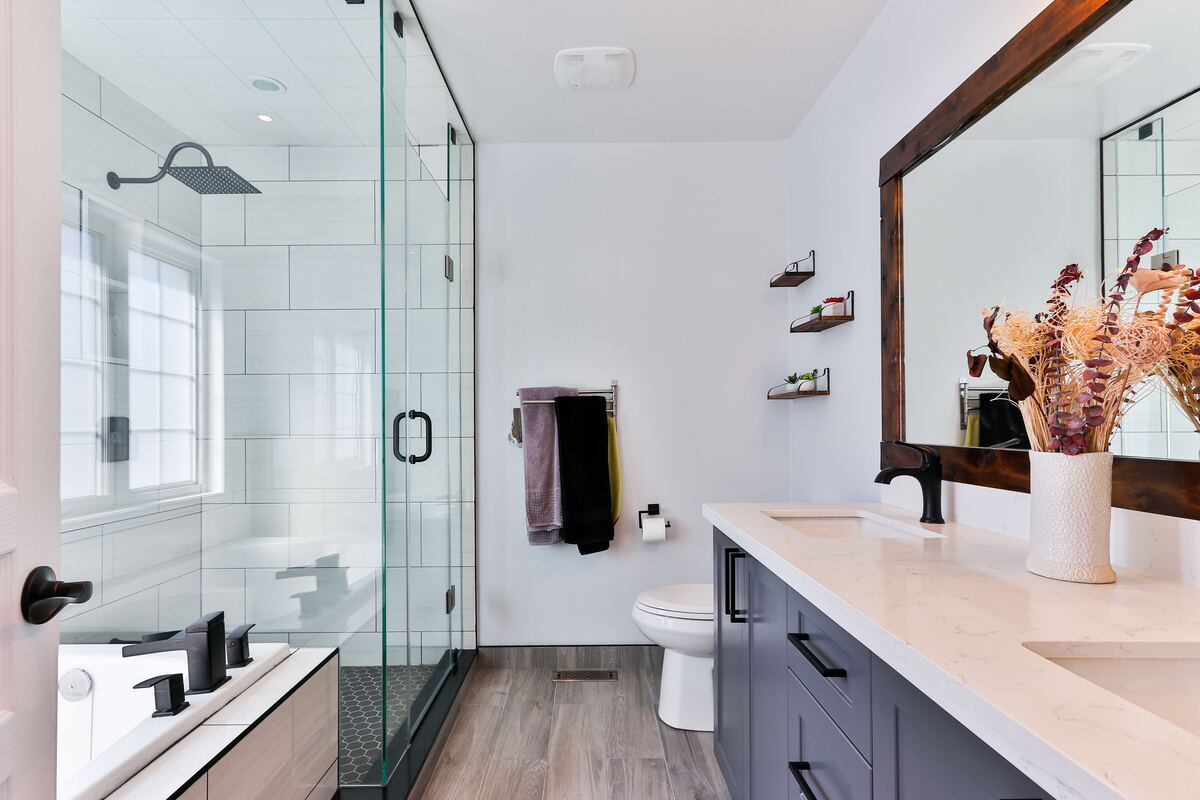 Wet room walk-in showers
You may be considering a wet room walk-in shower, different to a walk-in shower due to the absence of shower doors.
Wet rooms are a more hygienic option if you are looking to redo your bathroom.
Check out our other blog posts if you are looking for more information on what a wet room is or how much a wet room costs.
Walk-in showers are easy to clean
You may not consider the time it takes to clean the cubicle to be a major hindrance, but this could change if you have a walk-in shower!
Despite some of the great designs available for conventional showers, the surface of the flat walk-in shower tray means you save time on cleaning. It's free of crevices or steps.
Both wet rooms and walk-in showers share this useful feature.
Walk-in showers allow for a more hygienic bathroom
In addition to being easier to clean, a walk-in shower area also ensures that there is less likelihood of bacteria lurking.
There is no way to completely eliminate bacteria, but having a series of crevices means bacteria can hide, allowing it to become commonplace in the bathroom.
Features such as an anti-bacterial shower tray will prevent mould and bacteria build up in your shower.
The seamless design of a walk-in shower area ensures there is little room for bacteria to breed, allowing for a more hygienic environment overall.
Walk-in showers are more accessible
There will be times when getting to a shower can seem like navigating an obstacle course, especially for those who have converted a conventional bathtub into a shower. This can be even more problematic when used by children or disabled people.
Easy access to a shower screen and shower head – these are also aspects to consider.
The design of a walk-in shower tray means it is easily accessible, making it a safer and less obtrusive alternative to conventional bathtubs and showers.
For those with limited mobility, handrails can be added to the shower to aid with moving around up while showering. They can be added either to the shower glass or shower wall.
Easy access to the walk-in shower area ensures that the various factors affecting those with mobility issues can be considered and the shower room is a welcoming one.
In this case, the glass around the walk-in shower enclosure needs to be tough enough to withstand pressure.
Walk-in showers can be installed in any bathroom
When considering the many benefits of walk-in shower enclosures, the fact that one can be installed in any space is one of the most appealing aspects.
Nothing is more frustrating than having an idea for a bathroom, only to find it cannot be carried out because of its shape or size. Fortunately, this is rarely the case when you choose a walk-in shower.
You can install a walk-in shower in a way that maximises the same space while still leaving space in the rest of your bathroom.
To view some of our past walk-in shower installation examples in bathrooms of various sizes, visit our Bathroom Gallery.
What is the cost of walk-in shower installations?
Recently we wrote about how much a new bathroom costs in general. As discussed there, shower installation costs can depend on the type of shower – for example, whether you want a standard or electric walk-in shower.
For example:
Standard shower: approx. £250 – £400 for installation
Electric shower: approx. £400 – £800 for installation
As explored in our article on the different types of showers, an electric shower can help guarantee your supply of hot and cold water even if you have a small boiler tank.
Ensuring your walk-in shower installation is purchased from and fitted by a reputable and recognised industry specialist means you can be sure you'll receive value for money, regardless of your choice of design.
Other variables such as materials and additional features can also contribute to the average cost of a walk-in shower installation.
A walk-in shower is cost-effective
Choosing a new shower enclosure design can be overwhelming, but saving money can be another benefit of installing a walk-in shower.
Not only are plenty of affordable options available when considering walk-in showers, but replacing a bath with a shower can be an effective way of saving money on water and energy.
Having a walk-in shower installation handled by a reputable bathroom fitter also means homeowners can enjoy a shower that withstands the wear and tear of daily use for many years to come.
A walk-in shower could increase your property value
It has been found that renovating your bathroom can potentially add between 4-5% to the value of your home.
It should be noted that simply adding a walk-in shower alone will not guarantee an increase in property value, but there can be situations when this is the case.
When people view a property, it is not only the aesthetics of the house that are appealing, but also the additional features.
As such, a walk-in shower can make a property more appealing, especially if it's in addition to a freestanding bathtub.
Walk-in shower cost: Average price
It's estimated that the average final walk-in shower cost ranges from ₤500 – ₤5000 but these costs depend on your situation, preferences and choice of provider.
But at Ability Bathe, our prices for an entire new bathroom – or refurbishing your current one – start at just £3,000! So we will always be competitive on our walk-in shower costs.
Final thoughts: How much does a walk-in shower cost?
Take a look at our blog on the cost of a walk-in bathtub if you'd like to know how a traditional walk-in shower cost compares.
There are several other benefits associated with walk-in shower enclosures depending on your circumstances.
So, if you've been unsure as to whether a walk-in shower is the right fit for your property, we'd be happy to share our thoughts during a free home appointment.
To ensure you are always getting the most from a walk-in shower, it is essential to use experienced, reliable professionals.
Speaking with bathroom specialists like Ability Bathe ensures that a professional walk-in shower installation is carried out, and you have the chance to ask any questions before making the final decision on your new bathroom.
So, if you're thinking about installing a new walk-in shower, feel free to get in touch with Ability Bathe today!