10 Loft Bathroom Ideas To Inspire You
Thinking about creative ways to revamp your additional attic space and looking for loft bathroom ideas? We're here to help!
While a project like this may seem daunting at times, converting your loft into a bathroom can be a fantastic option. And choosing the right bathroom experts makes it all much more straightforward.
According to a study carried out by Nationwide Building Society, a loft conversion can significantly increase your property's value – by 22% or £42,700!
And adding an extra bathroom can up the average UK property's value by 4.9%, or £9,600.
Please note that all loft conversions must adhere to all building regulations – here's an explainer from Checkatrade – and you may need planning permission.
Now here are some ideas to reinvent your loft space!
#1 Lighten up your loft bathroom with a skylight
Shown above, skylights can add height to an otherwise cramped room, optimising the space to include furniture and fixtures as necessary.
This is one of the best ways to ensure your space is filled with natural light, giving it a sense of airiness. These can also improve ventilation to reduce bathroom mould.
Don't worry about sloped roofs! These allow a range of versatile possibilities for skylights that can add standing room to your bathroom space.
#2 Take advantage of your loft's original shape
The eaves of an attic offer great versatility to make the most out of your converted loft space.
Use the highest point of your sloped ceiling for a walk-in shower. Think about a separate enclosure with a bespoke shower screen that is adapted to the size and shape of your loft.
Another option is to use the space under the eaves for storage shelves. Keep your bathroom essentials at arm's length and use every inch of space available!
#3 Corner basins and toilets
Concerned your loft space is awkwardly shaped? Consider corner ceramics.
If there is a lack of straight space for your loft bathroom wall ideas, basins or toilets can go in the corners to maximise room elsewhere. This adds a contemporary touch to your converted loft, allowing the installation of a larger sink, bath, or shower.
For your toilet, think about water-saving features like dual-flush valves, reducing the amount of water used per flush. These make your home more eco-friendly and help cut costs.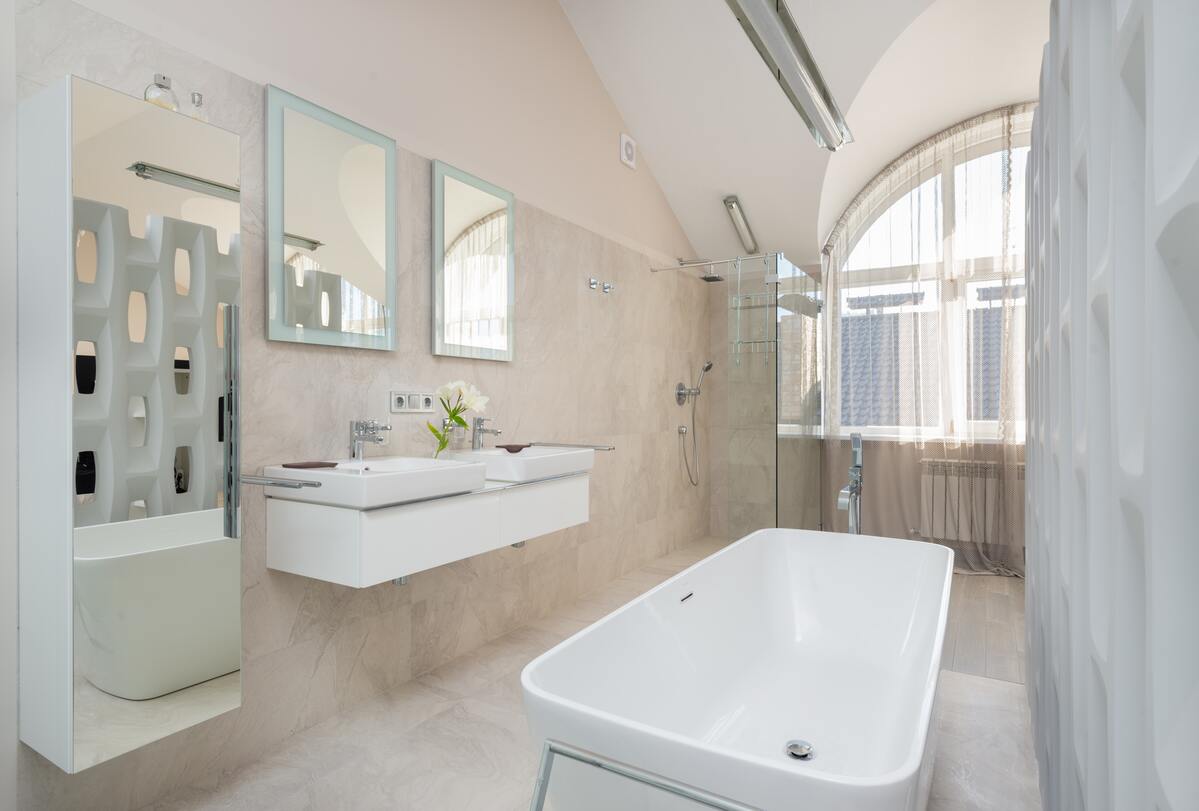 #4 Convert it into a wet room
A wet room creates a sense of spaciousness that could grant your loft bathroom a sleek, modern appearance because they are open plan. They can give your home a luxurious feel.
Not only are they visually appealing, accessible to children, and those with mobility restrictions – wet rooms are also practical and easily cleaned, a useful factor in a loft.
Keep drainage in mind as it works differently for wet rooms. Ideally the floor would be at a slight angle to ensure the wet room tray drains the shower, avoiding a mess!
#5 Underfloor heating
Heating your space is essential to keep it cosier, dryer – and most importantly, free of mould.
Underfloor heating offers flexibility, evenly distributed warmth, and additional surface area for other fixtures. As a low temperature heating system, it improves indoor air quality and lessens energy consumption.
Read here for more pros and cons of underfloor heating.
#6 A standalone bath
If your loft has a low ceiling, including a standalone walk-in bathtub provides you with the perfect solution.
It is a space-saving technique that allows room for other additions, taking advantage of that leftover space. It can give it a glamorous look while making the most of your loft's original layout.
You could put it underneath a skylight or a natural light source! This design could turn your space into a spa-like oasis, ideal for relaxation.
#7 Add a splash of colour or a pattern
Neutral colours often work well in a bathroom. Warmer colours will keep it inviting and relaxing.
A splash of colour could add character that makes your loft bathroom stand out.
Choose a fun design! Or a bright colour with warm undertones. Whether it is on the floor, shower tiling, or wallpaper, a minimalist layout can often benefit from an added sense of boldness.
#8 Dormer windows
You could add dormer windows to extend your loft outward. These offer the option to create more usable space while adding more natural light.
The extra height and light they offer could make them a fantastic addition to any bathroom. Again, make sure you have the necessary permission first.
Otherwise, if you are worried about privacy, switchable smart glass (that turns from frosted to clear) is a great option!
#9 Use mirrors strategically
Enhancing your interior with mirrors is a great, cost-efficient means of flooding your space with natural light. If your loft is smaller, this can also give it a sense of spaciousness.
You can either display them as decoration, over a sink, or perhaps even use mirrored tiles.
If you place your mirror in front of a roof window, the room will appear larger and better illuminated. This works best alongside reflective and smooth surfaces.
#10 Minimalist designs
The best way to use your loft's space efficiently is to keep it free of visual clutter. Keeping surfaces smooth and adding clever storage methods are two ways of doing this.
Being minimalist with the layout of your bathroom in loft conversion spaces can add an air of elegance, making it appear timeless and modern.
In doing this, you are also allowing natural light to flow through your bathroom. Your space will ultimately be more functional and simple to use.
Final thoughts: Loft bathroom ideas
We hope this guide has provided you with inspiration for a loft conversion bathroom.
Loft bathroom inspiration can be found all over social media, with this Pinterest page providing 200 images you could use for an upcoming project.
We've also written an article on wet room ideas and many of these principles would also work for a bathroom in loft spaces.
It's important to get a loft bathroom conversion right so if you're using professionals, make sure they're highly qualified and experienced.
At Ability Bathe, we pride ourselves on efficient and thorough bathroom renovations.
These are covered by our 10-year guarantee, setting us apart from other providers to cover your needs as best as possible. Get in touch to find out more!